Discover more from The Commonplace
Noticing what's still beautiful, good, and true in the world. Because it's there—if you have the eyes to see.
Over 34,000 subscribers
5 Quick Things #305 🍁
autumn walks, gravestones, bygone habits, & 9-to-5
Hey there,
Yesterday, Kyle and I celebrated twenty-one years of marriage. Hopefully we're only a third of the way through (at minimum), but boy howdy have we grown a lot in these two decades. I'm grateful for the grace that covers us when a wedding is essentially two kids at an altar making lifelong vows they have no idea how hard they will be to fulfill. Here are five quick things I've re-learned, yet again, this past year in our marriage:
Marriage isn't 50/50, it's 100/100. We have to bring our entire selves to each other and let our vowed commitment refine us into more of who we're meant to be.

Let the other person be who they are. I remember our pre-marital counselors telling us, "Women often go into the marriage thinking of all the ways she hopes the man will change. Men go into the marriage thinking of all the ways he hopes the woman will stay the same." But we do change, and we do stay the same. It's not our job to decide how that happens for the other person.

It's not just quality time, it's also quantity time. Some of my favorite moments from this past year have been our daily walks and our weekly morning coffee dates.

Be about more than the kids. We have had a lot (a lot a lot) of conversations about our kids this year, and that's fine; there are seasons when that's warranted. But we also need to remember to talk about other things: our hobbies, the funny thing we heard on a podcast, what we're learning.

We need other people to make our marriage even better. I need my friendships, Kyle needs his friendships; I need a mentor, he needs a mentor. We can't depend on each other to be all the types of relationships a person needs—we need to be each other's spouses. That's a beautiful, beautiful thing. We're made for community.
Onward to the other, actual 5 Quick Things!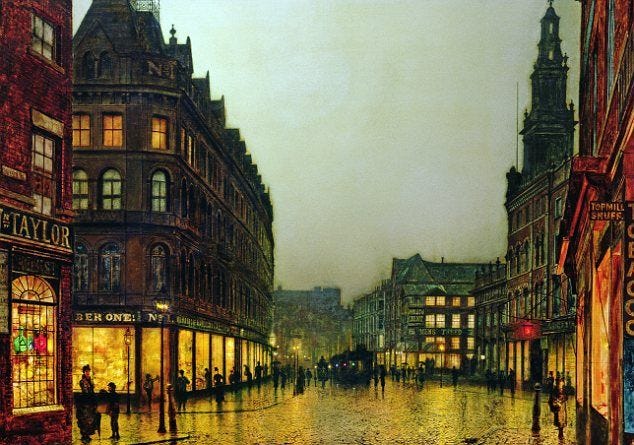 ---
5 Quick Things ☕️
1. Earlier this week I wrote a shorter installment of my series Lex Orandi, this one on a subtler, but just as eye-opening, realization I had during my discernment journey toward the Catholic Church. (A reminder: this series is free but opt-in, so if you'd like these monthly-ish essays, adjust your account settings—here's a visual).

2. You may have seen that recent viral video of a Gen-Zer crying about the trials of working a 9-to-5 job. Like

, I felt

more pity than disdain at her realization, because yes—we were, in fact, made for more than that

(even though hard work is good and we must all go through seasons of enduring something we'd rather not endure): "Despite the scorn they get, they're not actually oblivious or unthinking: they know something is deeply wrong. But they

have

been deprived of the moral concepts, and tacitly forbidden from making the moral judgments, that would allow them to articulate who they are and what they want."

3. In honor of Allhallowtide this week, we get a treat: a short story from

! "The gravestones have always reminded me of the little tabs in a spring garden that say things like 'carrots' or 'lettuce,' proclaiming, rather remarkably, that from the ash black soil, tender life will soon shoot up. It is remarkable, really. Every year, come Eastertide, from seeds locked in their little death chambers, deep in the cold dark ground, green shoots peek out of the earth, tender and small, and very, very alive. But these markers are not for carrots, they are for people."

4. What a beautiful, lyrical journey

took us on with an essay reflecting on a simple walk through glimpses of beauty seen through a glass darkly...

Come for the photos, stay for the words

: "The familiar gets passed over these days. I'm as guilty as any. Novelty is endlessly inviting, endlessly exciting. And I'm not denying its goodness - the role of travel and new places, new faces, all that. But to

love

something, to really, really

know

something, there has to be that knee deep, days-in-days-out,

being

."

5. And finally, here are eleven Great Depression-era habits coming back in style. (I hesitate with the second one because my grandma took it too far, but I completely agree with the spirit of the habit.)
---
Currently Reading, Watching, Listening 📚
Timeless: A History of the Catholic Church, by Steve Weidenkopf
---
The Commonplace is a reader-supported publication. Become a subscriber:
---
Quotable 💬
"Do not spoil what you have by desiring what you have not; remember that what you now have was once among the things you only hoped for."
- Epicurus
---
What's the worst Halloween candy? 🍬
I actually have a kid whose favorite candy is Tootsie Rolls, and I actually have a husband whose favorite candy is Necco Wafers. ...I apparently live in an alternate-universe household. As for me, I'm not much of a candy person at all—give me a brownie or ice cream any day—but I'm definitely not Team Twizzlers. Those things taste like rolled-up plastic sheets of Red Dye no. 40.
Good & Plenty: 25.6%

Necco Wafers: 22.9%

Candy Corn: 21.8%

Licorice: 11.1%

Tootsie Rolls: 10.1%

Smarties: 8.5%
Find this week's poll here.
---
Quick Links 🔗
---
Question(s) For You to Ponder… 🤔
What three small things am I grateful for?
---
Have a great weekend,
- Tsh
p.s. George Washington's dream for America. (Nate Bargatze on SNL!)