Discover more from The Commonplace
Noticing what's still beautiful, good, and true in the world. Because it's there—if you have the eyes to see.
Over 34,000 subscribers
Hey there,
In this first full week of July I've been largely offline, and that's been good for my mind, body, and soul. I've been hankering to declutter, so this week I channeled my energy on my 10-year-old's room, who literally has a handwritten sign taped on his door that says, "A place for everything and everything all over the place." He just can't be bothered and is happy among his piles.
At concern over moldy orange peels and even more concern over his not-yet-matured peace of mind, his room now looks like a different place. 💪 And of course, now I want to channel this energy into all the other rooms of the house. If we're not going anywhere this summer, might as well make our home more functional, right?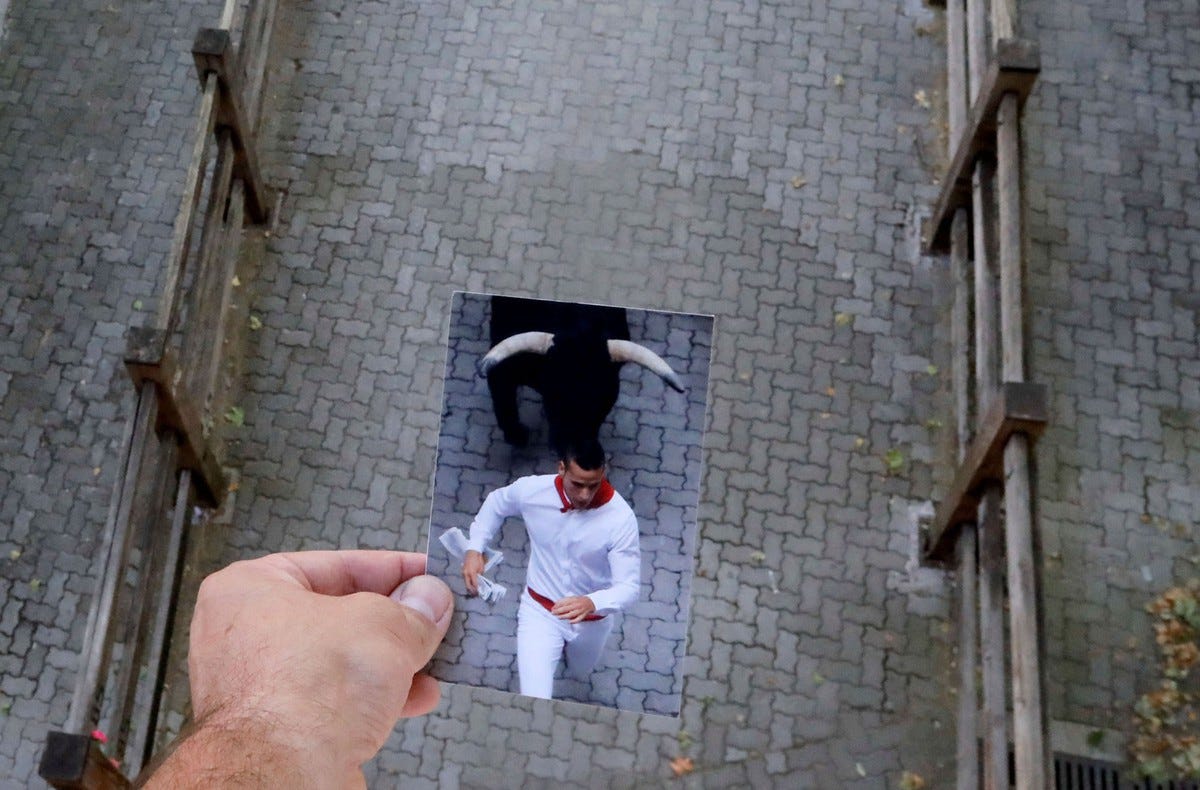 A photographer holds a photo from last year's Running of the Bulls in Pamplona, Spain. #
---
5 Quick Things ☕️
1. We compiled eight great fiction books by BIPOC authors — I read my recommendation last summer and it stayed with me for months. Kyle read it last month and raved about it, too.

2. Some of our previous contributors are sharing final essays to celebrate this final year of AoS — Charlie has always been one of my faves, and his essay this week demonstrates why.

3. Just because you can doesn't mean you should. Yes and amen.

4. It was the introduction of mass-produced longform writing that really unleashed human potential — books over tweets, every time.

5. My kids quote this clip at least weekly. "We're not done looking at it!"
---
Quotable 💬
"Where you spend your attention is where you spend your life."
― James Clear
---
Time Machine ⏰
4 years ago, Ed shared his thoughts from when he unexpectedly moved away from his still-growing garden.
---
Elsewhere 📍
Lots of great answers in the comments here 👆
---
Have a good weekend,
xo, Tsh
p.s. If you're craving clarity about what life might look like this fall, I recommend first sketching out your own personal Rule of Life. My self-paced, four-part audio workshop might help you do that — and it's name-your-own-price. Really! 🙌