Discover more from The Commonplace
Noticing what's still beautiful, good, and true in the world. Because it's there—if you have the eyes to see.
Over 33,000 subscribers
5 Quick Things #151 📚
Strolling + savoring, gap years, pen magic, & book lineups
Hey there,
In this household, school begins in just over three weeks, which is wild. This summer has been a blur, and though we're not "going" back to school right away, I'm looking forward to — as I tend this time every year (pandemic or not) — a semblance of more routine.
How about you?
I'm currently in full-on prep mode when I wear my teacher hat, even though I'll still be teaching via a screen the first few weeks and may have to again at a moment's notice for the foreseeable future. I'm really stoked about my literature line-up.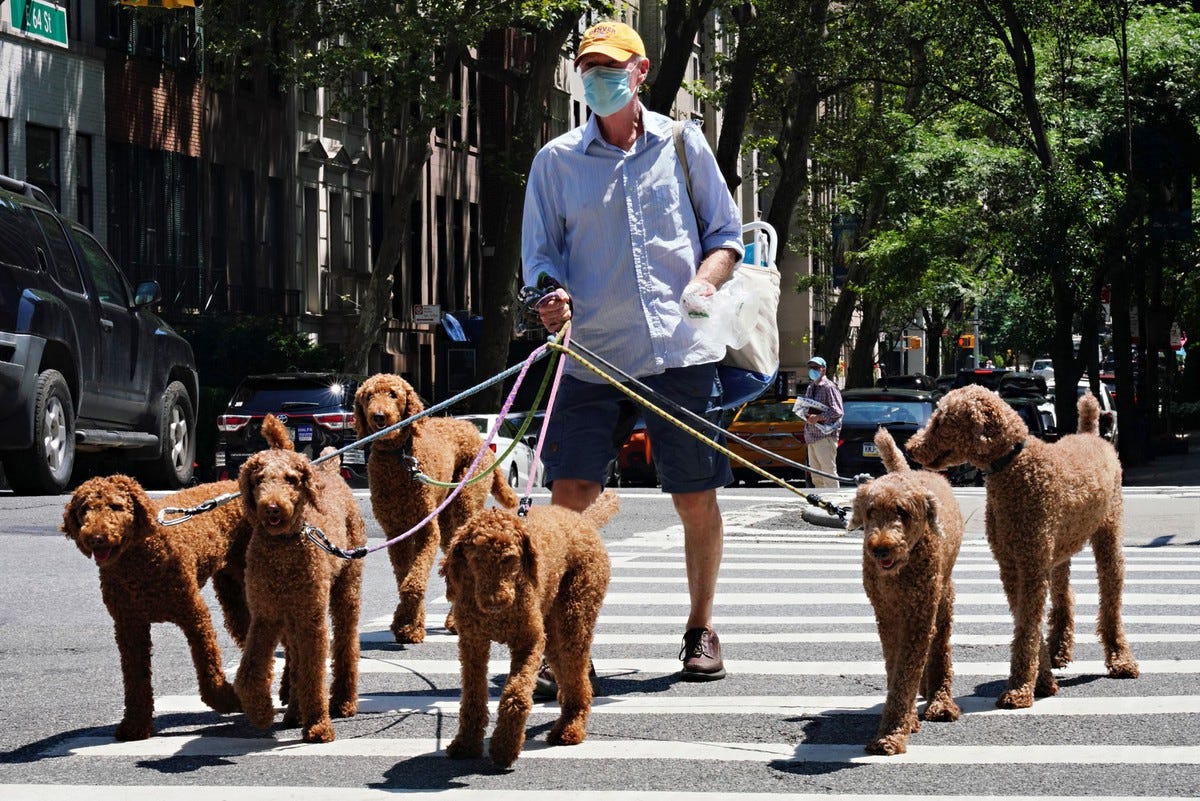 A man walks his dog during this week's re-opening of phase 4 in NYC. #
---
5 Quick Things ☕️
1. "There's a need to see faces. Even if it's through a television screen." Caroline shares 8 shows she's enjoyed lately (I'm taking notes, since I've only seen one of them yet they all sound lovely).

2. I'm all about the German word heimat, which means "deep-rooted fondness towards a place to which one has a strong feeling of belonging;" Kyle's partial to the Norwegian word utepils, meaning "a beer that is enjoyed outside, particularly on the first hot day of the year." More happy words.

3. I can't believe these are all done in ballpoint pen.

4. I'm always a fan when favorite friend-writers contemplate the current culture of social media. I'm eager to hear his results at the end of the month.

5. Good thoughts regarding the unknown of this school year: "If you can't muster up the confidence to call this exploration of undiscovered passion an actual 'education,' then call it something else: call it a gap year."
---
Quotable 💬
"I did then what I knew how to do. Now that I know better, I do better."
― Maya Angelou
---
Time Machine ⏰
11 (!) years ago, I wrote about why we should just use the good stuff and stop waiting for the queen to come for dinner.
---
Elsewhere 📍
---
Have a good weekend,
xo, Tsh
p.s. Because we enjoyed our summer book club so much, this fall we'll most likely do it again — this time with one of the classics I'll be teaching. If you'd like to join in on the I-didn't-appreciate-high-school-English-class-as-much-as-I-should goodness, upgrade to a Books & Crannies subscription! More details coming in early fall. 📚🤓