Discover more from The Commonplace
Noticing what's still beautiful, good, and true in the world. Because it's there—if you have the eyes to see.
Over 33,000 subscribers
5 Quick Things, #153 🏠
Musical scrapbooks, tiny art, flamethrowers, & IT'S HOT
Hey there,
About three weeks ago began our official season when we question our sanity of moving back to Texas away from the Pacific Northwest. ☀️ It's been painfully hot for a while, and it'll keep being painfully hot for quite a while still. I know there's a heatwave up there in the PNW right now, but at least it's short-lived… in Texas, it's hot through Halloween. 🥵
Regardless, I'm grateful for where we live. Most mornings I still wake up, almost four years after moving here, and am floored that we live in our old neighborhood right off the town square, where it's uncharacteristically walkable for the U.S. If I can't expatriate right now, at least we live here.
Why do you love where you live? I'd love to know.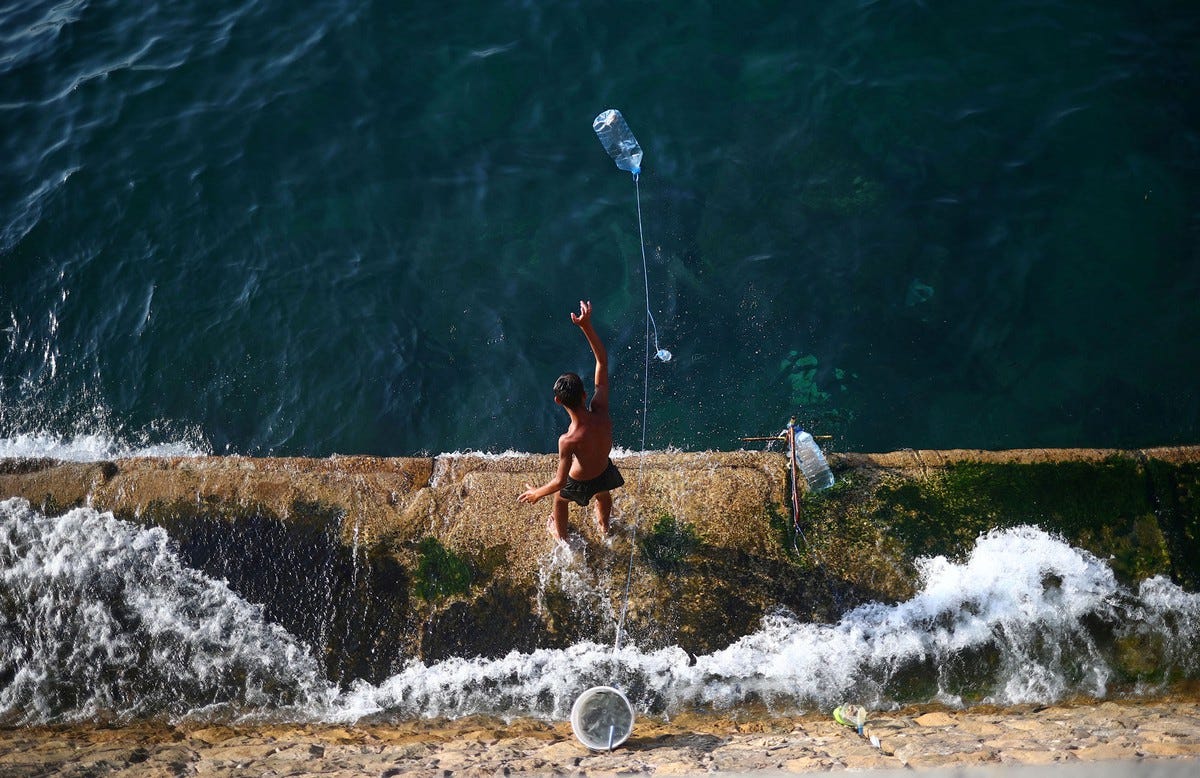 A boy fishes at the Corniche Beirut in Lebanon. #
---
5 Quick Things ☕️
1. I wrote about why I prefer to use Instagram like a museum instead of a mall (and why I prefer it for inspiration > connection).

2. Ready for fall, too? 🙋‍♀️ Katherine shares a good fall reading list to sharpen your mind and open your heart.

3. Today on the pod, I talk about one simple way I use Spotify as a scrapbook, plus I chat with fellow writer Sarah Bessey about what's on her Good List.

4. 20 basic life skills your teenager should have — agree with this list?

5. Speaking of using the internet artfully (see #1, above), I love this miniature calendar. Mesmerizing!
---
Quotable 💬
"Might we consider boredom as not only necessary for our life but also as one of its greatest blessings? A gift, pure and simple, a precious chance to be alone with our thoughts and alone with God?"
― Kathleen Norris
---
Time Machine ⏰
One year ago, Andrea shared the one question that's saving her creativity (I see a trend in this issue of 5QT… 🤔)
---
Elsewhere 📍
---
Have a good weekend,
xo, Tsh
p.s. I just added more books to my Books I Assign My Students shelf, per finalizing this next year's class syllabi. Don't forget to buy from bookshop.org when you can — it supports your local indie bookstores, which we need to help keep alive!