Discover more from The Commonplace
Noticing what's still beautiful, good, and true in the world. Because it's there—if you have the eyes to see.
Over 34,000 subscribers
5 Quick Things, #158 🐝
Consider the chickens, your nonsense, one's mediocrity, & a bumblebee's work
Hey there,
Right now as I sip my coffee I'm looking out into the backyard. There's a framed chicken coop, waiting for its walls and windows, a stack of pallet wood from our neighbors, who know Kyle wants to build outdoor patio furniture from reclaimed wood, a tabletop on its side, waiting for deconstruction so the wood slats are ready for a future project, and the outline of yet another raised bed to inaugurate our fall garden. In other words, I'm reminded everywhere I look of life in a fixer-upper.
I'm ready for it to be done. I'm also grateful for the tangible reminder that all of life is a process, that we're made for work and growth, and that there's real pleasure in doing things yourself.
Nonetheless, I'm thrilled it's Friday and I'm glad for this elixir of life next to me. ☕️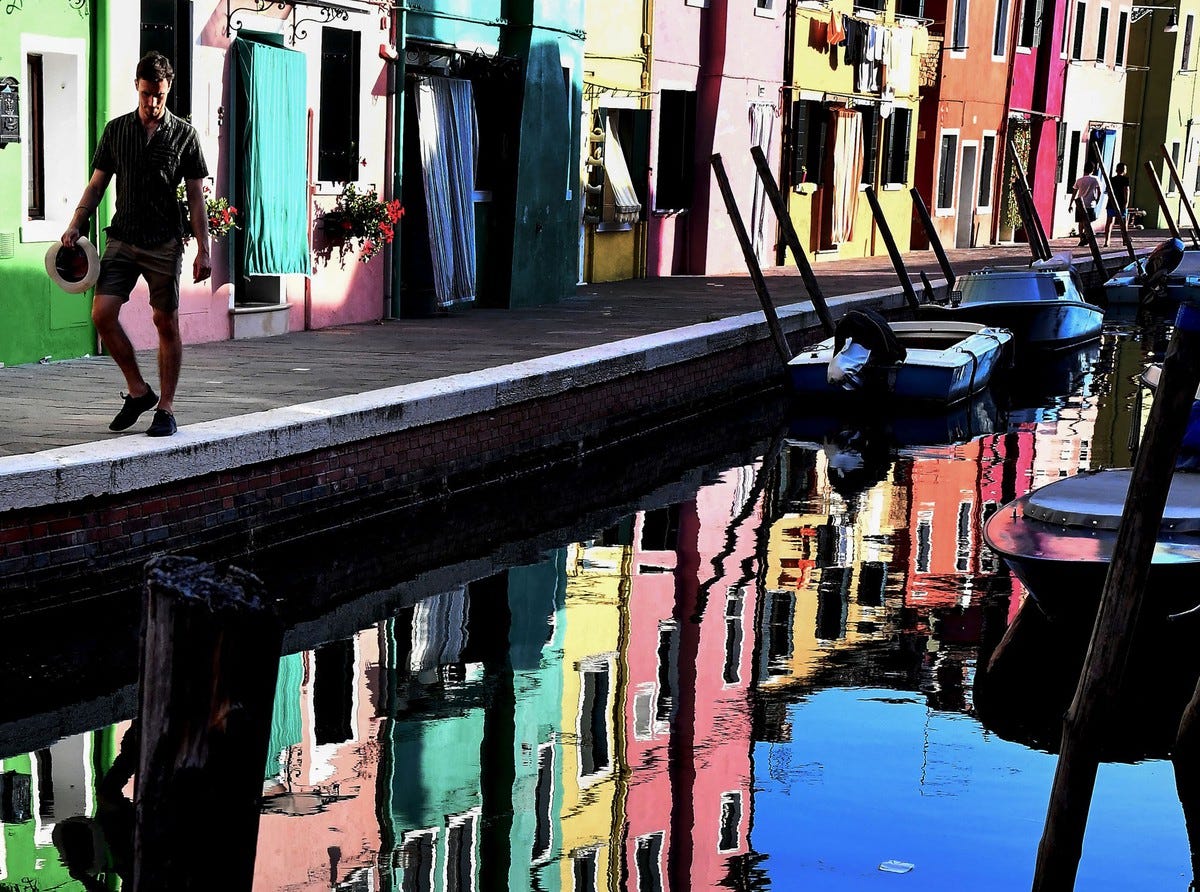 Daily life in Burano, Italy, one of my favorite outposts near Venice. #
---
5 Quick Things ☕️
1. This year's quarantine inspired me to return to gray hair — and I'm loving it. I wrote a bit about it, and today I'm sharing reasons why + tips and tricks.

2. "Information is important. But accumulating information is not the same thing as being wise, any more than collecting scrap wood makes you a woodworker. It's what you do with the raw material that matters." This is so very good.

3. The small pleasures of adulting — "To take radical pleasure in one's own mediocrity is the best way to defang the threat of constant failure."

4. I loved this piece on John Lewis' childhood pride of preaching to the chickens.

5. Paul Rudd, Certified Young Person, wants you to wear a mask. So very funny.
---
Quotable 💬
"Finish each day and be done with it. You have done what you could. Some blunders and absurdities no doubt crept in; forget them as soon as you can. Tomorrow is a new day. You shall begin it serenely and with too high a spirit to be encumbered with your old nonsense."
― Ralph Waldo Emerson #
---
Time Machine ⏰
Three years ago Brooke wrote about the art of noticing (I needed to reread this today).
---
Heads up… ✨
The lowest price for Shadow & Light is currently found here, at ChristianBook. Consider snagging your copy from them in time for Advent, along with a few more to pass out as gifts as we all eagerly wait for the holiday season (more so than usual, I'd say, in 2020). Delivery times are slower than usual right now, so don't delay! 🎁
---
Have a good weekend,
xo, Tsh
p.s. Beloved west-coasters, how are you holding up? I'm thinking of you continually these days. Hit reply and let me know how it feels in your neck of the woods right now... I can't respond to all of you, but please know I'll definitely read. 💛